Coin Tickets…
or
These are generally sent in a clear resealable bag, inside a secure padded envelope with free second class postage… perfect for any sort of coins or relics… Each card can be written on once the coin has a positive ID, for a quick reference…
These coin tickets are ideal for use under all coins, artefacts, stamps, fossils, bottles etc… if selling at fairs, events etc… these are a clear way to provide information or prices…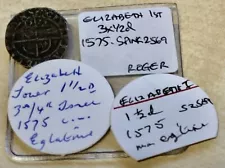 Click here to be taken to the Hammered Corner for your supplies
Most dealers will sell these coin / relic – (-Blank Card-) I.D. Discs in batches of 50 per purchase, which is a sufficient amount to get started, giving you some extra to start on your backlog maybe-!
Although these coin discs come in various sizes, i have found that if you purchase a batch of 28mm these will be sufficient for one standard 28mm coin tray + a couple of spares…
Being an off-white colour, these coin tickets or I.D. cards, are ideal for popping under your coins or artefacts to provide the basic information once they have been I.D. any amount of information can be written on either or both sides of these Blank "Round" Discs, it's incredible the amount of information that can be stored on these versatile Discs…
These cards are stiff enough to write on both sides without bleeding through…
Acid-Free so as not to react with the coins or artefacts…
the ones i use also meet the FSC criteria (Forest Stewardship Council)…
If the Display or storage case is under 28mm then buy the size relevant to the "cell" size of the tray, above 28mm these will fit under nicely…[- although they can be trimmed, easily enough -]
These can also be used to display an I.D. number, for ref. books, manuals, sales etc… ideal for capsules also & If you are using clear coin envelopes or coin capsules these coin tickets can be slipped inside with all the relevant information to hand…
Relics of all sorts can also benefit from these excellent Card I.D. Discs, as they sit unobtrusively under coins, relics metal detecting finds, fossils and practically anything else….
Points to Remember, & look out for…
You can obviously make your Coin Tickets, for the artefacts or coins, but, a mistake a lot of people make is that the card is not Acid-Free, and over time will react with coins and artefacts, over a short period of time i don't think it will do any harm, but i would not like to leave it years, so this short list here, is the little but important bits to look out for if you decide to purchase them…
Acid-Free…
Blank on both sides…
Minimum 220GSM Thickness to prevent any bleed through… [- the thinner cards are ok, but use a thinner "nibbed" pen, and not so much pressure -]
FSC criteria (Forest Stewardship Council -) [- not essential, but good-! -]
Archival Pen, these have a different ink, which will remain in their written state without fading…